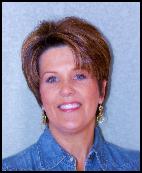 Catherine Truitt
Tenkiller Property.com LLC
South Highway 82 & 100 Junction
HC 68, Box 1471
Vian, Oklahoma, 74962
office 918-773-4072 – cell 918-261-0139 – fax 918-773-6420
Catherine was born and raised in Tulsa. She enjoyed years of fishing with her father and the beauty of our area lakes. After graduation from college she met the love of her life, Mark, and they married in 1984. Soon the two became six, pairing up two boys with two girls. The fun began as the youngest became mobile and the Truitts hit the lake. You can find them on the water boating, fishing, skiing and tubing when ever the weather permits.
After renting a cottage near the lake for several years, driving down every available weekend for peace and quiet, they bought a house and now reside on Lake Tenkiller full time. They enjoy supporting the Vian Wolverines during football and basketball season. Catherine and her family attend the Blackgum Baptist Church in Blackgum where she also enjoys the women's bible study during the week.
With the three oldest Truitts at Oklahoma State University and the forth off and driving, Catherine's nest is clearing out. She is ready to assist you with all your real estate interest, that you too might experience the beauty and thrill of life on Lake Tenkiller.